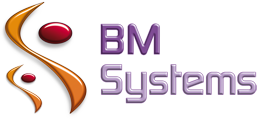 CADI™ Discovery - Research Production
CADI™ Discovery programs to date: 5 Business Units in 9 domains and 6 CADI™ Therapies:

5 Business Units
Mechanisms-Based Nutrition
9 BMSystems' R&D domains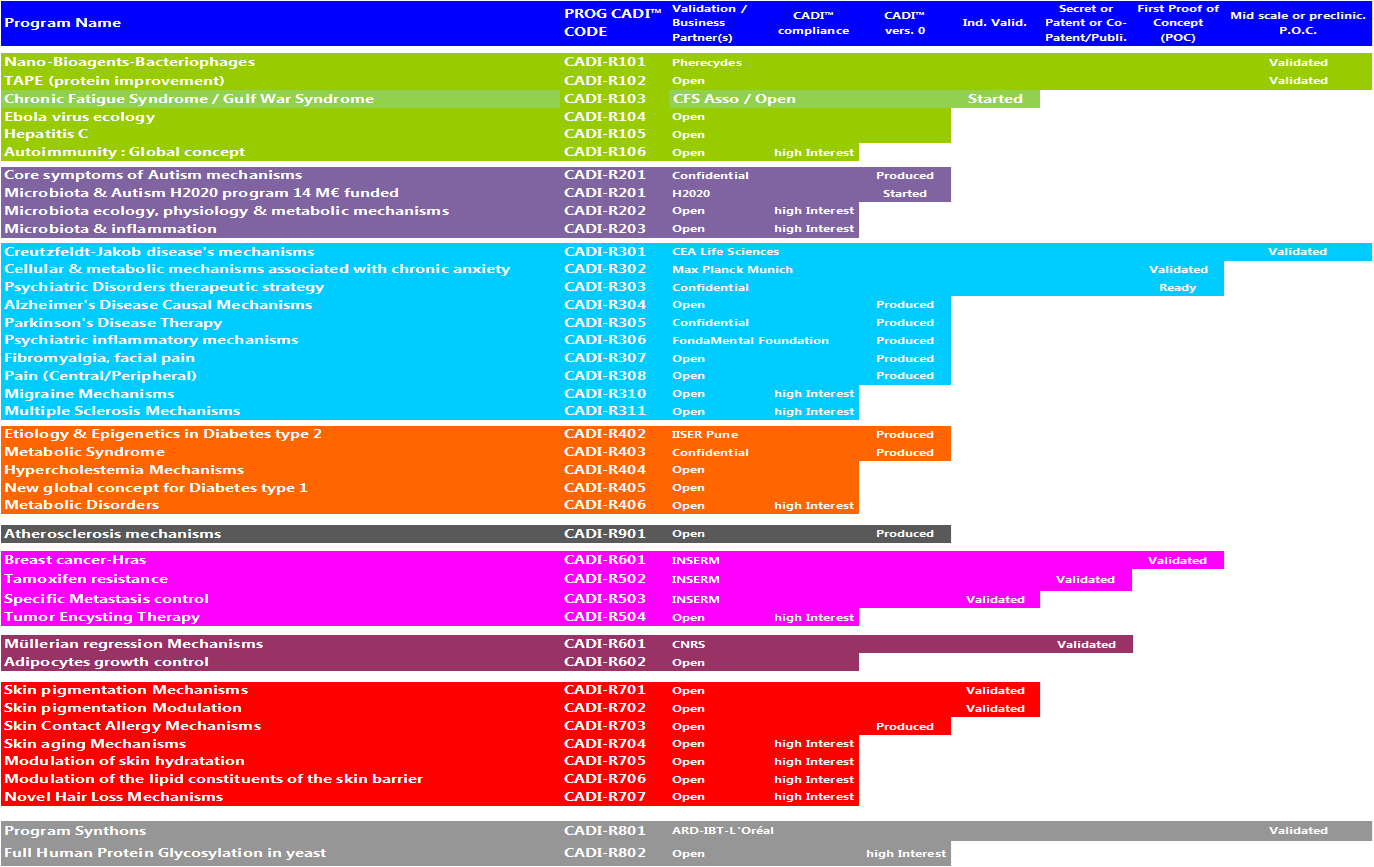 BMSystems' Therapeutics, Diagnostics, Bio-Production Pipeline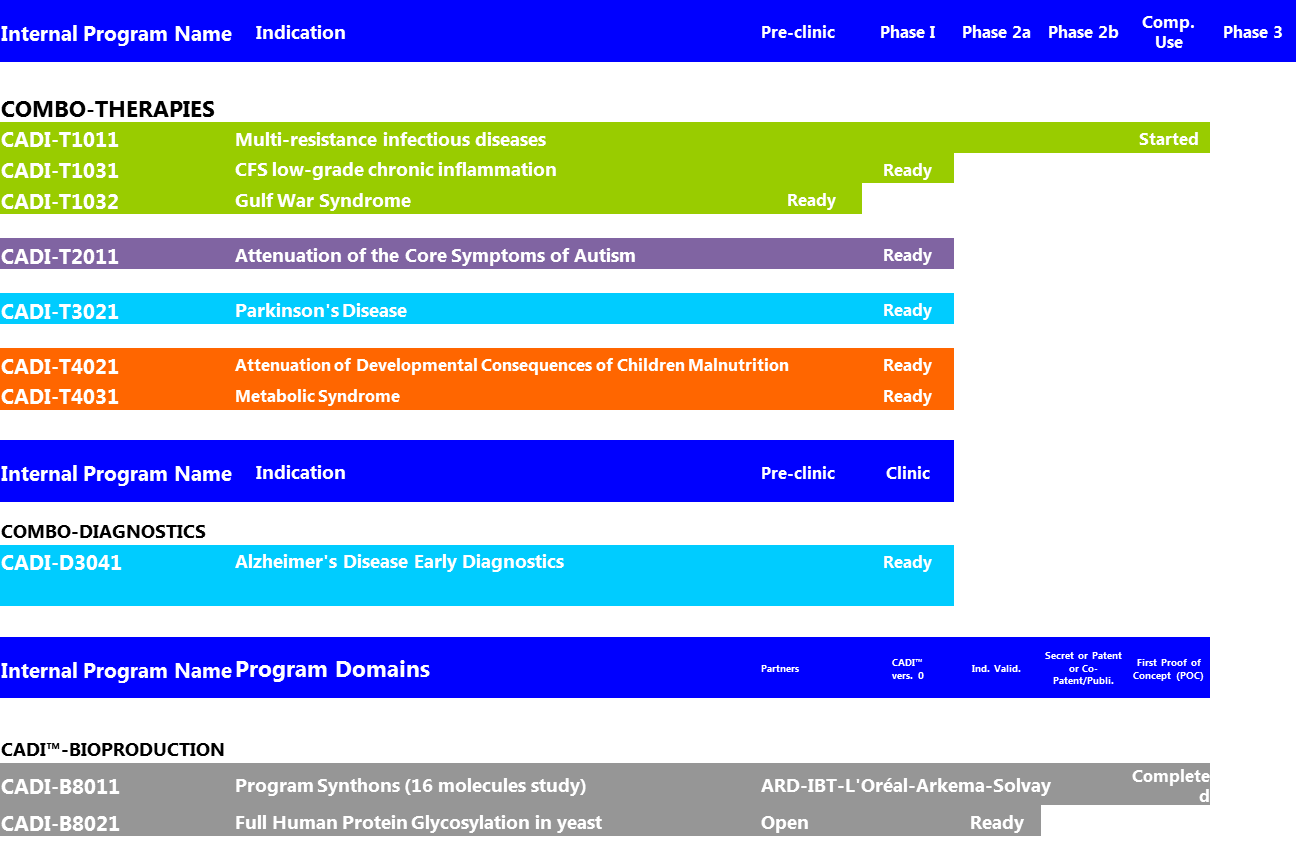 Infection-Immunology domain: Chronic Fatigue Syndrome / Gulf war Syndrome; Ebola virus ecology; Hepatitis C; Autoimmunity : Global concept.
Micorbiota /Microbiome domain: Skin, lung, gut, etc., ecology, physiology & metabolic mechanisms. GEMMA, Microbiota & Autism H2020 program, selected for 14 M€ funding.
CNS / PNS Inflammation domain: Psychiatric & neurologic treatment; Creutzfeldt-Jakob disease mechanisms; Alzheimer's Disease Mechanisms. Parkinson's Disease Treatment; Psychiatric inflammatory mechanisms; Fibromyalgia, facial pain; Pain (Central/Peripheral); Migraine Mechanisms; Multiple Sclerosis Mechanisms; Psychiatric disorders biomarkers.
Metabolism / Inflammation domain: Hypercholestemia Mechanisms; Diabetes type 2; New global concept for Diabetes type 1; Metabolic Syndrome
Cardiovascular Diseases domain: Atherosclerosis mechanisms.
Cancer / Inflammation domain: Breast cancer-Hras; Tamoxifen resistance; Specific Tumor Metastasis control; Global Tumor Metastasis control.
Tissue Differentiation domain: Müllerian regression Mechanisms; Adipocytes growth control.
Dermatology / Cosmetics / Inflammation domain: Skin Contact Allergy Mechanisms; Skin pigmentation Mechanisms; Skin pigmentation Modulation; Skin aging Mechanisms; Modulation of skin hydration; Modulation of the lipid constituents of the skin barrier; Novel Hair Loss Mechanisms.
Industrial Biotech domain: Program Synthons; Industrial Biotech; Full Human Protein Glycosylation in Yeast.
Rare diseases/ Orphan diseases/ Orphan drugs based on CADI™ Discovery repositioning
7 CADI™ Combo-Therapies and 1 CADI™ Combo-Diagnostic and 2 CADI™ Bioproduction Progams (new internal classification)

COMBO-THERAPIES
CADI-T1011 Multi-Resistance Infectious Diseases
CADI-T1031 CFS Low-Grade Chronic Inflammation
CADI-T1032 Gulf War Syndrome
CADI-T2011 Attenuation of the Core Symptoms of Autism
CADI-T3021 Parkinson's Disease
CADI-T4021 Metabolic Syndrome
CADI-T4031 Attenuation of Developmental Consequences of Children Malnutrition
COMBO-DIAGNOSTICS
CADI-D3041 Alzheimer's Disease Early Diagnostics
CADI™ BIO-PRODUCTION
CADI-B8011 Program Synthons (16 molecules study)
CADI-B8021: Full Human Protein Glycosylation in Yeast
14 CADI™ successes programs (partners/clients questions) to date:
For all details download our short Presentation
Mechanisms of pathogenesis & clinical progression of Creutzfeldt-Jakob Disease;
Mechanisms of anti-connexin agents for modulating the therapeutic effect of psychotropic and neurodegenerative drugs;
Cellular & metabolic mechanisms associated with chronic anxiety;
Novel antiglycemic mechanism;
Anti-metastatic mechanisms of the RGD15 peptide;
Mechanisms of Ras-mediated breast cancer oncogenesis;
Mechanisms of breast cancer resistance to tamoxifen;
Regression mechanisms of the Müllerian duct;
Mechanisms of differential melanosome degradation;
Context-dependent functions of OA1 protein;
Context-dependent functions of OCA2 protein;
Context-dependent functions of SLC45A2 (MATP) protein;
Engineered bacteriophage banks and the control of multi-resistant pathogens;
Bioproduction and hemisynthesis of 18-methyl eicosanoic acid;
IMPORTANT: We are not domain dependent, but smart data access dependant